The Australian Centre for Astrobiology is partnered with the NASA Astrobiology teams at Arizona State University and MIT to collaborate on the innovation and production of the Virtual Field Trip concept, in particular on sites of astrobiological interest in Australia. Other partners have joined the team to brings together an extraordinary set of international VFTs.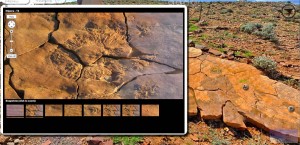 Origin of the VFT concept:
Grant: (2005-2006) $119,500 Australian Schools Innovation in Science, Technology, and Mathematics, Australian Government
Formal NASA Space Act agreement for collaboration on making a Virtual Field Trip with the Australian Centre for Astrobiology
In 2004, an idea arose at the Australian Centre for Astrobiology to make a rich. dynamic, interactive Virtual Field Trip of an outback area of Western Australia known as the Pilbara where the earliest best evidence of life on Earth can be found dating back 3.5 billion years ago.
Could we make a Virtual Field Trip that would allow high school students to go out into the field virtually with scientists and move across the landscape with them almost video game-like? Could we make it so students could hear the debates of science in the field – to hear how scientists constantly chisel at the edge of discovery to better understand our natural world and our place in space?
We were pushing the available technology of the time. But the proposal interested NASA Learning Technologies, developers of World Wind, the forerunner of Google Earth, which was still some years into the future. NLT sent Tom Gaskins to investigate the potential and in July 2004 joined us on a field trip to the Pilbara.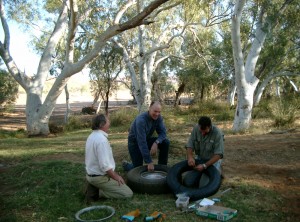 Above: Tom Gaskins (centre) finds himself mending a tyre at the Trendall Locality camp site in the Pilbara. On the left is the then Australian Centre for Astrobiology Director Prof Malcolm Walter and on the right field hand Ian.
Tom decided it was worth NLT partnering with us – a partnership facilitated by the NASA Astrobiology Institute of which the ACA is one of only two international associate members. In the next two years Geoffrey Bruce, then working at NLT, visited us and also took a trip into the field with us, collecting the necessary visual data, and then working with us to bring together the vision that the ACA and NLT now shared together with the Macquarie University ICT Innovations Centre then led by Jennifer Fergusson, which had joined the partnership.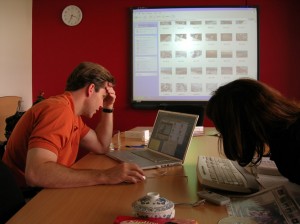 Above: Geoffrey Bruce and Dr Jennifer Fergusson work on figuring out how to create the first astrobiology interactive Virtual Field Trip.
The result can be seen in the below picture and by visiting the attendant wiki website, which since it was launched in 2007 has had more than several million full page downloads.