Grant: $20,000, Fulbright Australian-American Symposium for 2002, Science Education in Partnership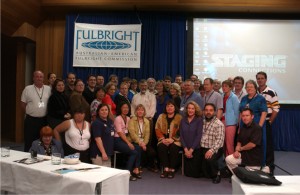 Above: Fulbright Symposium science teacher delegates from Australia and America.
The 2002 Fulbright Symposium, Science Education in Partnership, was held in tandem with the International Astronomical Union Symposium 213, Bioastronomy 2002: Life among the stars, on Hamilton Island, Great Barrier Reef, Australia in July 2002.
The purpose of holding the two symposia together was to allow science teachers from Australia and American to interact with scientists and vice versa.
The resulting publication from the Fulbright Symposium 2002 was:
Devore, E., Oliver, C.A., Wilmoth, K.L. and Vozzo, L. (2004) Science education in partnership: The 2002 Australian American Fulbright Symposium, Advances in Space Research, Elsevier Vol 34, pp 2110-2130.
Conference proceedings are available here.