Above: Some of the participants enjoying an afternoon off from the Bioastronomy 2002 conference.
Grant: $20,000 (for symposium), $30,000 International Astronomical Union (for conference), and around $100,000 in sponsorships
In 2002 I was the Local Organising Chair for International Astronomical Union Symposium 213, Bioastronomy 2002: Life under the stars. It was held on Hamilton Island, Queensland, Australia in the heart of the Great Barrier Reef. It was attended by 250 delegates from all over the world and held in tandem with the Australian-American Fulbright Symposium Science Education in Partnership.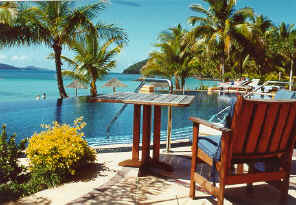 Here is a PDF Power Point of pictures from the Bioastronomy and Fulbright 2002 symposia . It is a 15mb download. All pictures, Dr Seth Shostak, SETI Institute.